Yi Zuo

Associate Professor of MCD Biology
B.S., Tsinghua University
Ph.D., Northwestern University
Postdoctorate, New York University, Univeristy of Texas at Austin
Glia-neuron Interaction and Structural Plasticity of the Synapse
The nervous system is made up of two classes of cells: neurons and glia. For a long time, neurons have been considered to be the sole basis for information integration, while glia have been thought to be supporting cells for the neurons. However, this dogma is now being challenged. Recent studies show that signals can pass back and forth between neurons and glia. Thus, rather than being a quiet bystander, glia are likely to actively participate in the signal processing in the nervous system.
One mechanism by which glia might modify neuronal networks is the modulation of neuron-neuron connections. Neurons communicate with each other at a specialized structure called the synapse. The synapse is regarded as the site of information processing and storage in the nervous system. The structure and function of synapses are constantly being modified in the living brain, particularly during learning and memory formation. Glia are closely associated with synapses and are believed to maintain the microenvironment surrounding them.
The Zuo lab is interested in how synapse formation and plasticity are affected by glia-neuron contact and interaction. Taking advantage of modern optical imaging and fluorescent labeling, the Zuo lab is able to image the same synapse and its glial component over an extended period of time. The lab combines vital imaging with molecular manipulation to dissect the cellular mechanisms of glia-synapse interaction.
These studies contribute directly to our knowledge of glia-neuron communication and, more importantly, how glia are involved in learning and memory. They may also provide a way to manipulate brain function through modulating glial signals. Moreover, since malfunctions of glia are characteristic of various neurodegenerative diseases, understanding how glia function may lead to potential treatments of such diseases.
Please
follow this link
to find the lab's publications in the National Library of Medicine's PubMed database.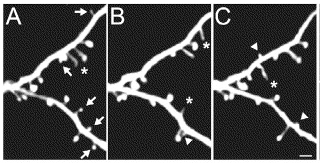 Dendritic spines become stable in adulthood after substantial spine elimination during young adolescence.  See Zuo et al. 2005 Neuron 46:181-189.
See
Also