Academics
The Department of Molecular, Cell and Developmental Biology participates in the graduate Program in Biomedical Science and Engineering (PBSE). Fifty-two faculty members who come primarily from the Departments of Molecular, Cell, and Developmental Biology, Biomolecular Engineering, Chemistry and Biochemistry, and Microbiology and Environmental Toxicology, offer an unusual breadth of expertise and exceptional opportunities in interdisciplinary graduate research training. When students apply to PBSE they indicate interest in one of four training tracks:
Each of the tracks provides a set of focused core courses and advanced electives that draw on the expertise of the PBSE faculty and provide students with advanced training in interdiscipinary approaches to biomedical science and engineering. The Graduate Program in Biomedical Sciences and Engineering reflects the interdisciplinary and collaborative nature of biomedical research at UCSC.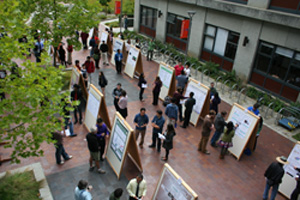 MCD Biology awards degrees in the following majors: Molecular, Cellular, and Developmental Biology; Neuroscience, Human Biology; General Biology B.A. & B.S. (shared with Ecology & Evolutionary Biology Department) Biochemistry and Molecular Biology (shared with Chemistry and Biochemistry Department); BioInformatics (shared with the School of Engineering); and combined Environmental Studies/Biology major. Go to the Division's Welcome to the MCD Biology Undergraduate Program website for more information.
Our undergraduate programs also strongly support research training and careers for students from underrepresented groups. For more information visit the Minority Access to Biomedical Research Careers website.