Contact & Visitor Information
Molecular, Cell & Developmental Biology
Our office is located in Sinsheimer Labs, Room 225.
Visitor Info: Due to COVID-19, there are new policies, guidelines, and protocols that we must all follow to reduce the virus's spread. Instead of visiting campus, explore the campus with our virtual campus tours and by viewing the UC Santa Cruz Minute series.
Get the latest COVID updates on the UCSC Roadmap to Recovery page.  
Office Hours
Monday - Friday
8:00a.m. - 12:00p.m. and 1:00p.m. - 5:00p.m.
Mailing Address

University of California, Santa Cruz
Molecular, Cell & Developmental Biology
Sinsheimer Labs
1156 High Street
Santa Cruz, CA 95064

Phone Number
(831) 459-4986

Fax Number
(831) 459-3139
Visiting Campus 
Parking Permits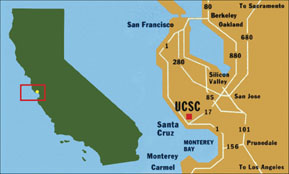 Parking permits are required and can be purchased at the Main Entrance Kiosk between the hours of 7:00am–1:00pm, Monday through Friday. From 1:00pm–5:00pm all permits must be purchased at the TAPS Sales Office located in the H Barn.       
View the parking permit pick-up location map here. 
Directions to Sinsheimer Laboratories:
When entering the main campus entrance (intersection of Bay and High Streets) Bay Street becomes Coolidge Drive. Continue on Coolidge Drive and drive around the eastern edge of campus. Coolidge Drive becomes McLaughlin Drive after a sharp curve to the left. Continue on McLaughlin Drive, turn left on Heller Drive, and take an immediate left into the Core West parking structure. Walk out to Steinhart Way, proceed down Steinhart until you reach our building.
The UCSC visitors website also provides maps, directions, and detailed parking information, as well as organized tours, virtual tours, and other programs for those wishing to visit campus.