Yi Zuo
Professor of MCD Biology
B.S., Tsinghua University
Ph.D., Northwestern University
Postdoctorate, New York University, Univeristy of Texas at Austin
Synapse Plasticity and Learning/memory
My laboratory studies how the neuronal circuitry rewires during learning and memory formation, particularly in the motor system. We combine vital imaging, molecular manipulation, circuitry tracing and behavioral analysis to investigate the cellular mechanisms underlying synapse plasticity in both physiological and pathological conditions..
My laboratory can be found at UCSC's Dept. of Molecular, Cell and Developmental Biology. The lab is relatively small (typically 8-10 members) and includes postdoctoral, graduate and undergraduate researchers. The University also offers a wide range of shared instrumentation facilities, as well as opportunities for exciting interdisciplinary collaborations.
Please
follow this link
to find the lab's publications in the National Library of Medicine's PubMed database.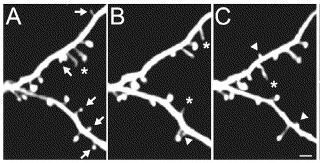 Dendritic spines become stable in adulthood after substantial spine elimination during young adolescence.  See Zuo et al. 2005 Neuron 46:181-189.
See
Also