Petition to Declare
Qualifying for the Major: Petition to Declare
Students are encouraged to petition to declare one of the MCD Biology sponsored majors once they have met all the qualification requirements.
To submit a Petition of Major/Minor Declaration, students can log into MyUCSC and submit the Petition for Major/Minor via MyUCSC (be sure you are logged into your MyUCSC account before clicking the link). 
Another way to access the Petition for Major/Minor via MyUCSC is by logging into your MyUCSC, navigating to the Student Homepage and selecting the Undergraduate Student eForms tile, then Petition of Major/Minor (see screenshots below).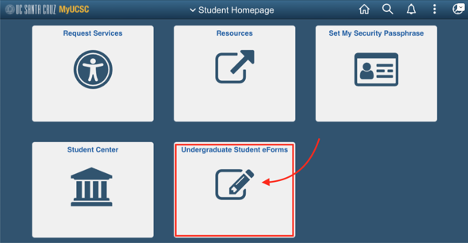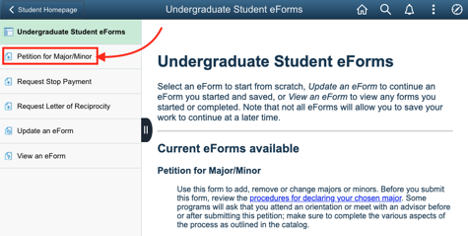 For assistance, please contact the MCD Biology advising team at mcdadvising@ucsc.edu .
Once submitted, petitions are generally reviewed within 10 business days (business days are considered regular working days Monday through Friday). 
Reminder on UCSC Major Declaration Policy: 
Students who entered UC Santa Cruz as first-year students are required to formally declare a major by the deadline in their sixth quarter on campus (remember - MCD Biology Qualification Policy requires students to declare an MCD Biology sponsored major by the end of their FIFTH quarter on campus). 
Students who transfer to UC Santa Cruz are required to declare a major by the deadline in their second quarter on campus. The major declaration deadlines for each quarter can be found in the academic calendar.
Human Biology, BS Major Declaration Form 
Students who were matriculated at UCSC Fall 2022 or prior who are looking to declare Human Biology, BS; please complete the Human Biology Major Declaration form below.
Students who are admitted/matriculated to UCSC after Fall 2022 (Winter 2023 and beyond) are strongly encouraged to look into declaring the Global and Community Health, BS -  Biomedical Concentration as this major is extremely similar to the Discontinued Human Biology, BS major.