MCD Biology Undergraduate Advising
Welcome to Molecular, Cell & Developmental (MCD) Biology Undergraduate Advising!
Click one of the links below to be directed to that page:
Important Announcements
Please note that the MCD Biology Undergraduate Advising Office is currently not scheduling in-person meetings. Please see our How to Contact MCD Biology Undergraduate Advising page for how to contact an advisor.
We have posted our 2022-2023 Curriculum Plan - please note that the Curriculum Plan is subject to change.
NOTE: There are no appointments scheduled during Summer and the first 2 weeks of the Fall 2022 quarter. Appointments will become available in early October. Please see drop-in advising calendar.
September 19, 2022:
August 22, 2022:
Fall 2022 Enrollment for continuing and incoming UCSC students opens! Please check your MyUCSC Student Center for your enrollment time
August 3, 2022:
No appointments are currently available for MCD Biology Advising as we are working with incoming students - please see the annoucnements below for more information 
Continuing Students:
Registration is currently NOT active for current UCSC students. Fall 2022 registration will open on August 22nd, 2022. If you are unable to enroll in a course now, please wait until August 22nd, 2022 and try enrolling after that date.

The MCD Undergraduate Advising Office will be focusing on incoming first year and transfer students between Monday, July 25 - Monday, August 22 which may delay our responses to emails and limit our availablilty. We thank you for your patience and understanding.
Incoming Students for Fall 2022:
Please use the "Introduction to the Molecular, Cell and Developmental Biology Department" modules on your Canvas dashboard to contact MCD Biology Advising.
OPEN COURSES - FALL 2022:
BIOL 121L: Enviornmental Phange Biology Lab will be offered during the Fall 2022 quarter.
Days: Mondays, Wednesdays, and Fridays
Time: 9:00am to 12:00pm
Location: Thimann Labs 203
Successful completetion of BIOL 121L will meet the Senior Exit Lab/DC requirement for the following majors:
MCD Biology BS
Biology BS
Neuroscience BS
Prerequistes: BIOL 20L and BIOL 101L
See the flyer for the course here.
Interested in enrolling in BIOL 121L? Complete this form (be sure you are logged into your UCSC email) and MCD Biology Advising will contact you regarding enrollment into the course.
BIOL 86: Research Deconstruction: MCD Biology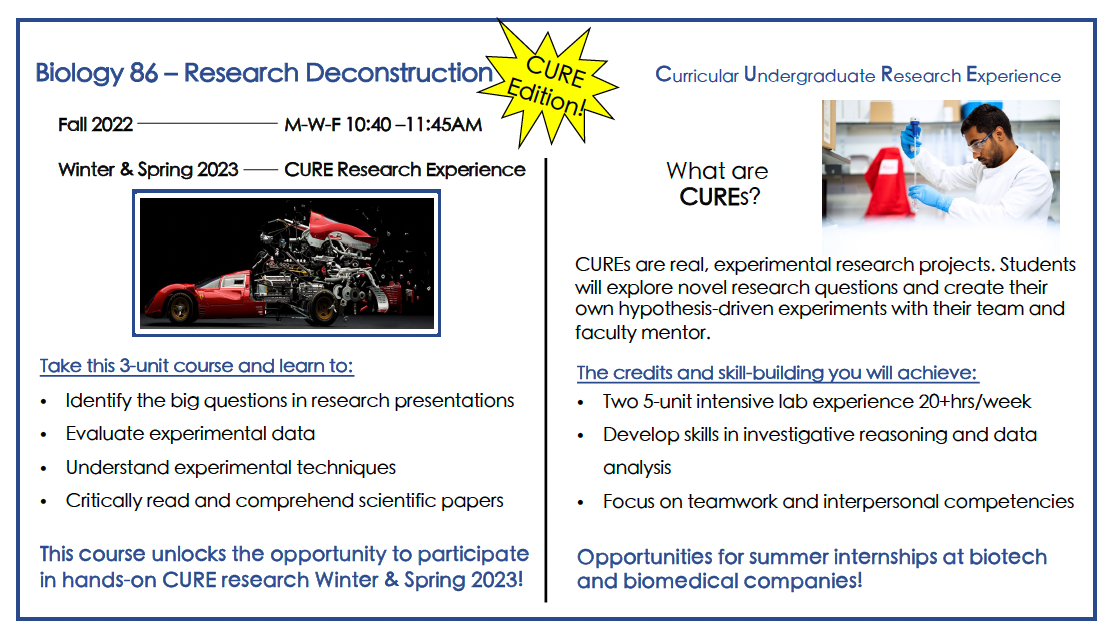 Link to BIOL 86 Interest Form: https://forms.gle/zEcPqrhgtMzHibL36
 Fall 2022 Enrollment Information
Be sure to read our Enrollment Guide for Fall 2022

If you are looking to enroll in a Senior Exit/DC Lab, be sure to have the search options set to seach "All Courses" to see the course details as the courses are closed during First Pass Enrollment.
How to Access MCD Biology Advising
Please see our How to Contact MCD Biology Advising page for more information on MCD Biology Undergraduate Advising options.
Know what type of advising you are looking for? Check out the specific advising pages below for availability:
MCDB Biology Advisors:

Leanna

Ali

Christine

Kylie

MCDB Faculty Advisor:

John Tamkun
MCDB Curriculum Chair:
MCDB Department Chair:
MCDB Department Manager: